My Five Senses: SingLaughLearn
New Video!
An Introduction to the Five Senses
Ages 3-7
Hi Friends,
With summer just around the corner, all of us here at Billy Gorilly headquarters are eagerly looking forward to the fun this time of year brings. The chance to be outside with the kids and enjoying the sunshine is a great opportunity to have them do some exploring and learn a thing or two (or maybe three, four or five?????).
For the last few months we've been preparing some exciting new material for you and your kids. The latest Billy Gorilly musicartoonio "My Five Senses" has Billy, his pals, and their new robot friend the Sens-O-Lator 5S learning all about the five senses. There's seeing, hearing, smelling, touching, and tasting in store for one and all as they use their five senses to experience the world around them. The lively, catchy song will be permanently stuck in your head (in a good way, of course) and the supplemental book of digital printables makes it easy and fun for kids to learn about their basic five senses.
This video includes text, narration, animation, colorful images, and a super catchy sing-along song. Designed and crafted to engage and teach children the basics about their five senses.
 Learn more about the Five Senses Video, Song, and Printables
This is perfect for the classroom.
Feel good knowing your kids will have safe, ad free video viewing.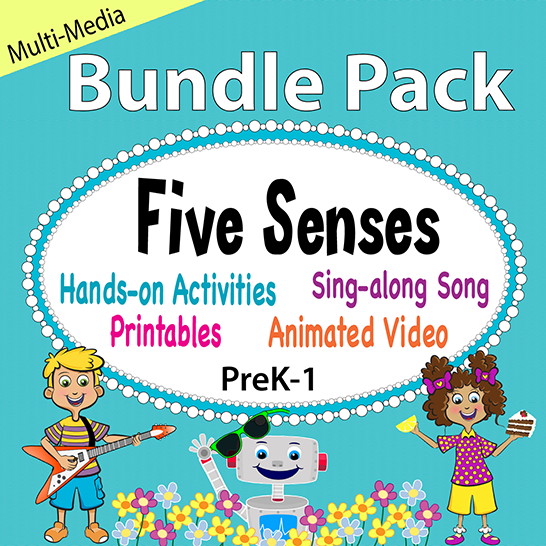 Other Videos You May Like:
>Kids learn how to wash their hands
>Months of the Year
Keep Smiling, Singing, and Learning
And You Can Make Everyday
Simply Splendiferous!

 and the Billy Gorilly Crew