Jingle Bells Song, Santa Sleigh Coloring Page, & Lyrics
Lively Piano Jingle Bells Song
Jingle Bells song has been around for many years and is a family favorite in many homes around the world.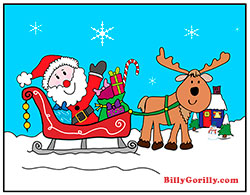 Jingle Bells song by Billy Gorilly is a lively piano version and makes a great addition to your winter or Christmas themed curriculum or home audio playlist.
Great For The Whole Family
Play Jingle Bells song while the kids color a picture or work on other holiday crafts.
Listen to Jingle Bells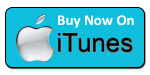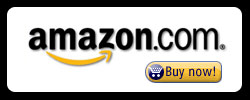 Santa's Sleigh & Reindeer Coloring Page with Jingle Bell Lyrics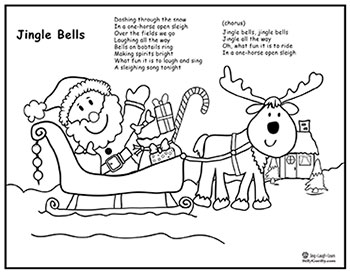 Print Lyrics to Jingle Bells
Jingle Bell Lyrics 
Dashing through the snow
In a one horse open sleigh
O'er the fields we go
Laughing all the way
Bells on bob tails ring
Making spirits bright
What fun it is to laugh and sing
A sleighing song tonight
Jingle bells, jingle bells
Jingle all the way
Oh, what fun it is to ride
In a one horse open sleigh
Jingle bells, jingle bells
Jingle all the way
Oh, what fun it is to ride
In a one horse open sleigh
A Jingle Bells Message From Billy Gorilly
Quick Links 
Visit BillyGorilly.com to learn more about Billy Gorilly
Winter themed printables
Santa Sleigh with Reindeer Coloring Page NO Lyrics