Super Simple Bookmark Craft – One World, Many Stories

Hi There,
As some of you might know, Billy Gorilly, has helped promote the summer reading program at the library for a number of years. He produces Library Theme Songs that he offers as a free resource for libraries and schools to use on their websites, blogs, videos, shows, or whatever they might find it useful for. It's one way we can share and give back to the community.
We also offer coloring pages, and activities to go along with the library reading program theme.We do this because we think the library offers families many opportunities to learn and grow. Especially families that can't afford to buy lots of books, music, movies, or computers. Basically we want to do what we can and help spread the word, because we think it's important to keep kids active and reading over the summer break.
Today I'm going to share a bookmark template. It would make a great super simple craft for the kids to make, and it helps promote reading at the library. It was designed to go with the Kids Summer Library Reading Program One World, Many Stories.
If you are someone that is working on the library program and you only need a few bookmarks, this might be something helpful to you. Or maybe you run a home daycare or preschool and want to encourage children and their parents to visit their local library. In any case, if you need a One World, Many Stories bookmark this might be for you.
Supplies Needed: Makes 4 bookmarks
Print bookmark template on regular printer paper or card stock
1 piece of 12×12″ card stock – use green or another color you like
scissors or paper trimmer
Glue, double-stick tape, or tape squares – use what you have
Ribbon or yarn. I used an old curly ribbon bow for these
Single hole punch
Instructions: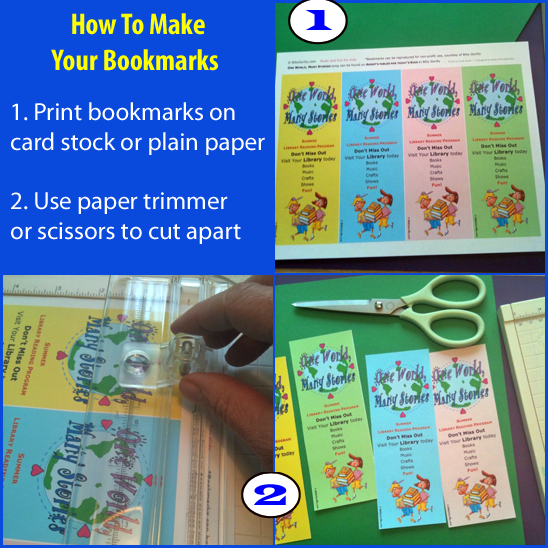 You will want to cut the strips of 12″ x 12″green card stock into  3 in. by 7- 3/4in. strips. You will need 4 strips of green.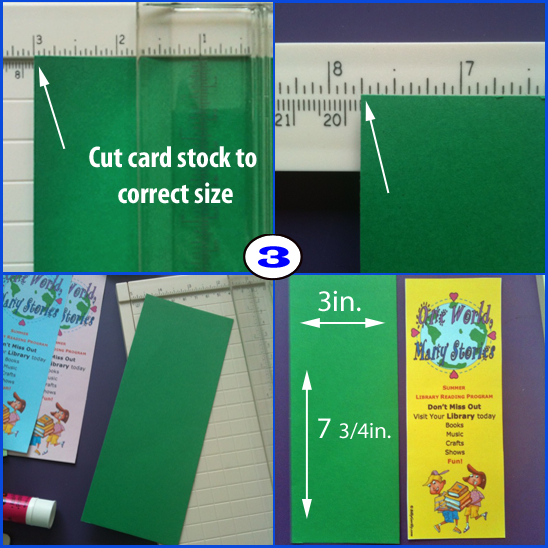 To assemble the bookmark. Use glue or tape to attach the bookmark to
the green card stock as shown in the picture below #4.
#5 punch a hole near the top of bookmark
#6 Thread ribbon through the hole

That's all there is to it. Of course you can always print the bookmarks
on white card stock, cut them apart and be done with it.
We thought it would be fun to add a little pizazz.
Quick Links:
• Library Song: One World Many Stories — Free  Promo version
• Library Song: One World, Many Stories — Album Version
• Download Bookmark Template
• Other Library songs by Billy Gorilly
• Billy Gorilly website
If you happen to know of someone that might find this bookmark useful feel free to share, tweet, like, or delicious this post — ?
As Billy Gorilly likes to say
"Keep Smiling, Singing, and Learning
and You Can Make Everyday
Simply Splendiferous!"
Tamara and the Billy Gorilly Crew