News Release: Billy Gorilly Musicartoonio for Early Learners
Flying Kitten Music and Kingman Publishing are excited to announce the release of the new Billy Gorilly musicartoonio "Months of the Year". The animated video is the first in a series of miniature movies for early learners, that combines the catchiness of a music video with the silliness of a kid's cartoon. Within a four minute time span, Billy and his pals entertain and educate children about months, seasons, calendars, and even a few quirky bits pertaining to the number 12.
The video was written, produced, and directed by the husband and wife team of John & Tamara Maellaro. The true labor-of-love brings into clear focus the artistic vision of both the Maellaros and executive producer Charles Hardman. Being leaders in the field of children's educational entertainment for more than a decade made them perfectly suited to create the strikingly fresh mix of smarts wrapped in fun. The incredible talents of illustrator/designer Joshua Perry were also enlisted to give the video its unique and beautiful look.   The official release date is set for August 21, 2014. The video will be available at Billy Gorilly Kids TV on YouTube, Vimeo, and BillyGorilly.com
Subscribe to Billy Gorilly YouTube Channel and You'll be Notified when New Videos Go Live!
Watch the Teaser
Follow Billy Gorilly on:
YouTube: BillyGorilly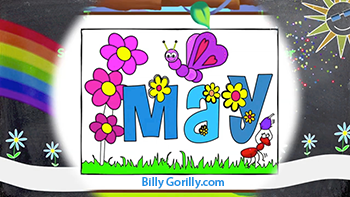 Twitter: @BillyGorilly
Facebook: Billy.Gorilly
Vimeo: BillyGorillyKidsTV
We need your help
We don't have a PR agency or marketing guru so John and I are personally asking for your help.
Every share, like, subscribe, tweet, and comment helps to get the word out about Billy Gorilly's new video. We hope YOU, our dear fans, that we love so much will want to be a part of the Billy Gorilly community. Together we can make a difference to help children learn and thrive.
Please share this info with all your friends on Twitter, Facebook, Google, and any other place you can think of.
Keep Smiling, Singing, and Learning
And You Can Make Everyday
Simply Splendiferous!
John and Tamara Maellaro