Insanely Easy Easter Candy Nests
Fun to Make with the Kids
If you need a quick hostess gift or want to make some candy for your own Easter celebration this might be it. It's also easy enough for the kids to help. It took me about 20 minutes from start to finish.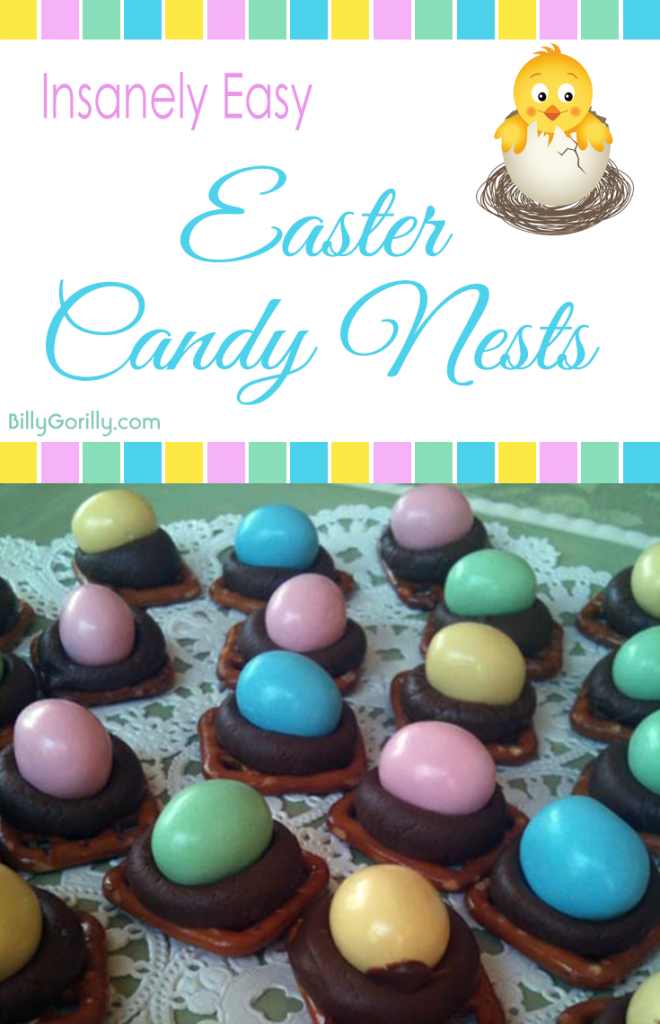 Only Takes A Few Ingredients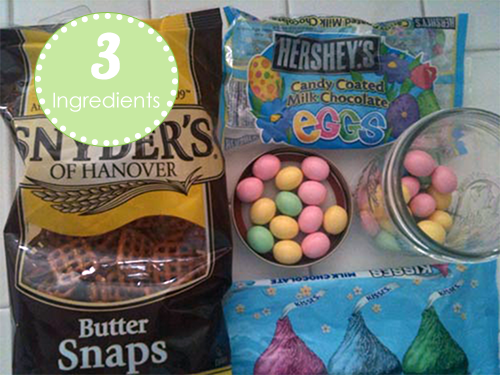 Bag of Chocolate Eggs
Bag of Hershey's Kisses
Bag of Square Butter Pretzels
5 Minutes in the Oven
Heat oven to 170° F.
Place the pretzels on a baking sheet and top with an unwrapped Hershey's Kiss. No need to use parchment paper on the baking sheet.  I tried both ways and found that not using parchment paper was easier. Put into oven and bake for 5 minutes or until chocolate is soft, not melted.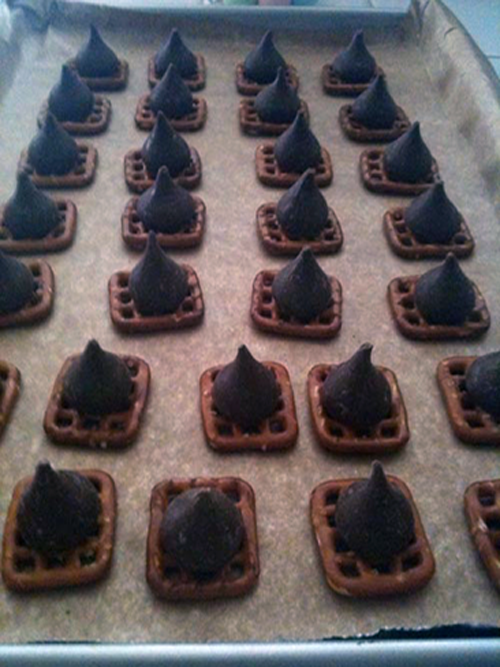 Push Candy Egg into the Kiss
When you take them out of the oven gently push a candy egg into the kiss.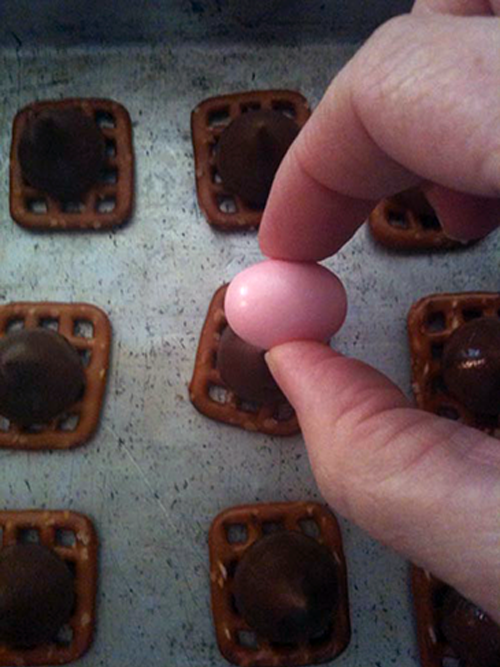 Chill for Ten Minutes
These are ready for the refrigerator. Chill for 10 minutes to set the chocolate.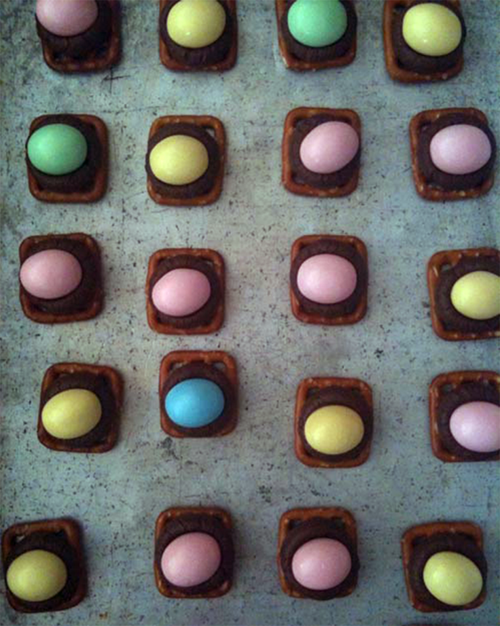 Prepare a Plate
I used a pretty green dotted plate with a white paper doily to showcase my Easter treats.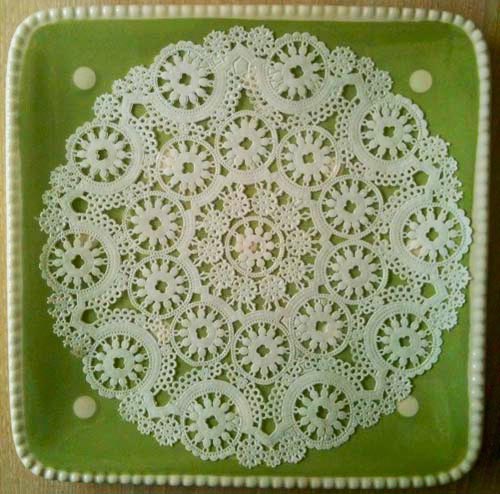 When Chocolate is Hardened Arrange on Plate
When the chocolate is hardened add the nests to your pretty plate. I decided to added the leftover kisses to the plate to fill in the gaps.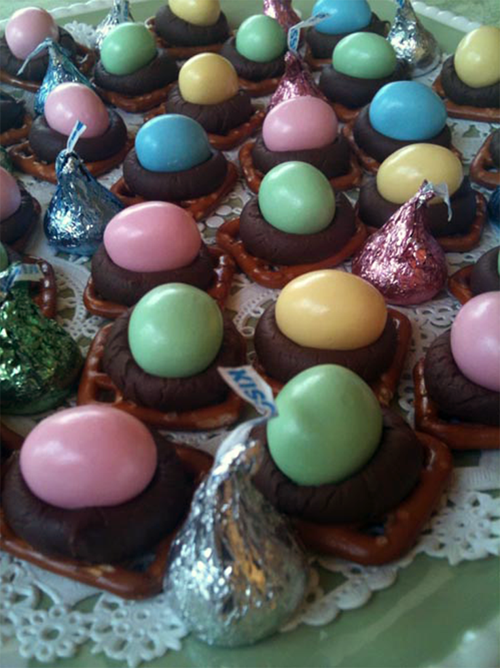 Cover with Cling Wrap
Cover your candies with cling wrap until ready to serve.
I will be taking some of these to an Easter Celebration as a hostess gift.
The plate didn't look quite festive enough for me so I went into my new kitchen towel stash. I found a cute green cotton towel with flowers, and ladybugs to wrap up the plate.
The towel was not big enough to cover the whole plate and tie with a ribbon, so I had to improvise. I ended up using office paper clamps to secure the kitchen towel (I think they look pretty cool, don't you?)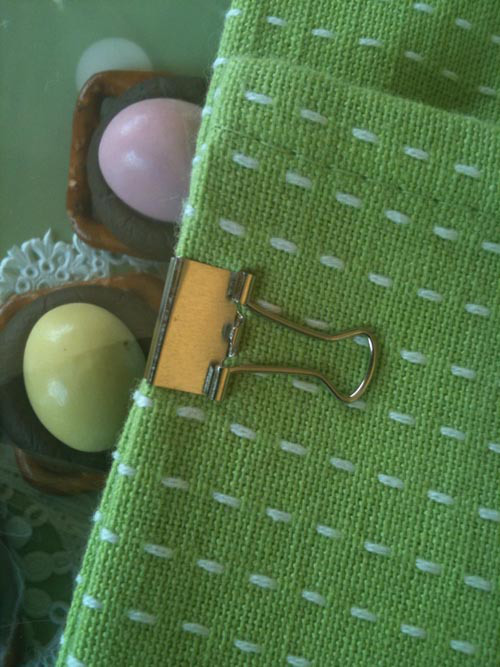 Easter Candy Nests Ready for a Party

I hope you enjoy making your own Candy Nests
Get More Spring Activities
Quick Links:
Bunny Coloring Page
Spring Activities
Billy Gorilly Website
Until Next Time…
Keep Smiling, Singing, and Learning
And You Can Make Everyday
Simply Splendiferous!

 and the Billy Gorilly Crew 
Please follow and like us: