Teaching Kids How to Count by Fives
Skip Counting by Fives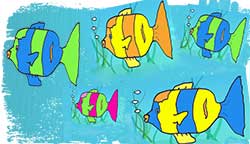 Things to think about when learning to count by fives
• Counting by fives means you add five to the previous number i.e. 5, 10 ,15
• When you start skip counting by fives; starting with the number 5, the numbers are…
5, 10, 15, 20, 25, 30, 35, 40, 45, 50, 55, 60, 65, 70, 75, 80, 85, 90, 95, 100

•  You can count by fives starting with other numbers for example; if you start with the number 1 the numbers are…. 1, 6, 11, 16 etc.
•  Starting with 5 makes a nice pattern that helps beginners grasp the concept much easier. For this post we are going to count by fives, starting with the number 5.
Learn to Count by Fives by Singing a Song
The rhythmic repetition and call back in this song will get the kids familiar with counting by fives. Play the Counting by Fives song to start a teaching session, or play the song in the car while you and the kids are driving around town. Learning songs are a great teaching tool that can be used with children of any age. The great thing about a song is a child can listen to the music in the background as they play with a toy.
Take a listen to Billy Gorilly's Counting by Fives song 
Play a Game – Counting by Fives Cootie Catcher
Do you remember playing with cootie catchers when you were a kid? I loved this game when I was in elementary school. The template for this cootie catcher can be found in our Rockin' the SchoolHouse Printables, Vol. 2 eBook along with counting by fives worksheets and flash card templates.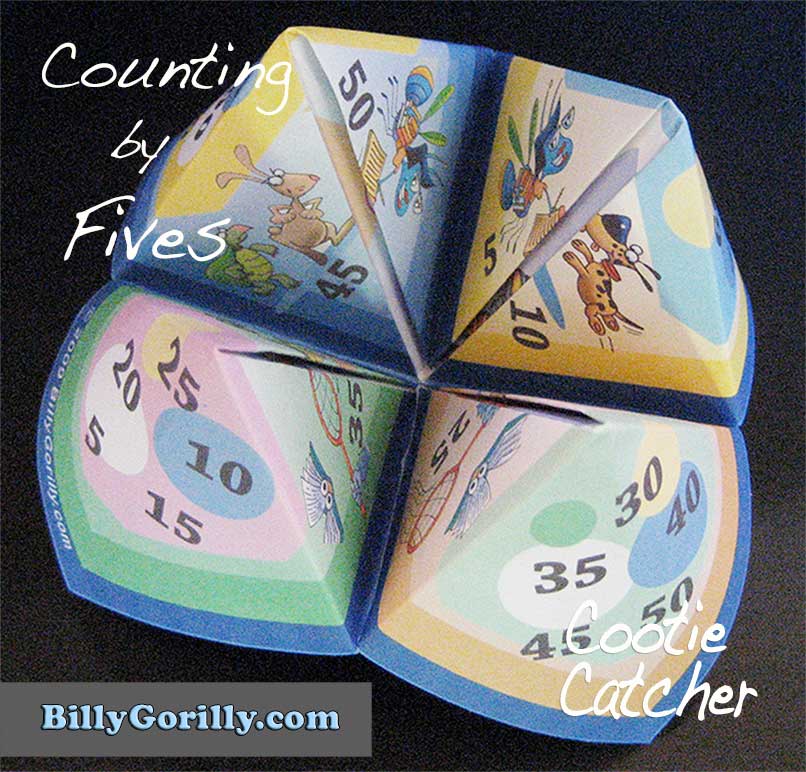 Because you are reading this post we want to give you a gift. Download and print the template for this cootie catcher right here, free. The file is in .pdf format
Kids will have fun playing with this cootie catcher and at the same time they will be practicing counting by fives.
How to Play "Counting by Fives" Cootie Catcher Game
• One player holds the cootie catcher
• The other player picks a number on one of the outside panels
• The first player opens and closes the cootie catcher, counting by fives aloud
• The second player then picks a number from one of the inside panels
• The first player opens and closes the cootie catcher, counting by fives aloud
• The second player again picks a number from one of the inside panels
• Open the panel under the number chosen to reveal the hidden message
• You can play over and over. You can even make your own cootie catcher with plain paper, and add your own messages.
Counting by Five Worksheets
Worksheets are a good way to practice writing and to document a child's knowledge of a concept. Worksheets can be taken anywhere and you don't need electronics to work on them.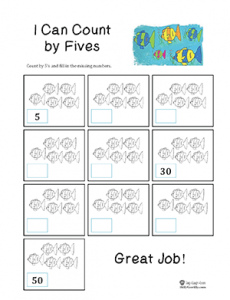 Worksheets are a great way to help children grasp the many new and important concepts they need to learn.
Printable worksheets can be used in the classroom or support learning at home.
You can find a collection of printable counting by fives worksheets and flash cards in the Rockin' the SchoolHouse eBook, Vol. 2  Learn More…
 We like sharing and we want to share this counting by fives worksheet with you. The file is in .pdf format
Three Activities to Practice Counting by Fives
Gather 100 items such as lego blocks, coins, or pieces of paper. Tip: Use a paper punch with scrap card stock to make shapes. We used a 1 inch heart punch to make our 100 pieces. Next place the items in groups of five. It helps when the students can see what a group of five looks like. Start with four groups of five, using 20 of the items. As the student progresses add more groups until they can count groups of five all the way up to 100.
Use counting by fives flash cards to practice finding the missing number. Make your own cards, print from a template, or buy pre-made, its' up to you. We offer a counting by fives flash card template in Billy Gorilly's Rockin' the SchoolHouse printables, Vol. 2 ebook. Line up the flash cards in a row starting with 5, 10, 15 etc. Now, remove a few of the numbers. Place the numbers you removed in a pile, then have the student put the correct numbers in the missing spots.
Once the student is getting the hang of things, have them take the counting by fives flash cards and put them in order from 5-100.
These are easy activities that can be used over and over.
Until Next Time…
Keep Smiling, Singing, and Learning
And You Can Make Everyday
Simply Splendiferous!