Hello friends,
We have been busy updating our computers and we're anxious to get back to work on our first animated video. It's taking a bit longer than we expected, isn't that always the case with technology. Our old computers kind of crashed in the middle of the video project so we had to head over to the Apple store for new and improved macs. We are praying we don't have to start from the beginning creating Billy Gorilly's Ac-Cen-Tchu-Ate the Positive video. Our fingers and toes are crossed.
In the mean time I want to share with you A June coloring page for the kiddos. If your child is learning about the month of June or how to spell June, this would be perfect.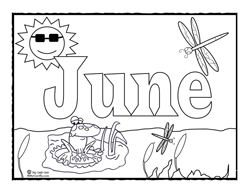 Months of the Year Song
Buy Months of the Year song at  Amazon  •  CdBaby  •  iTunes
Get more summer activity pages and recipes here
Billy Gorilly also has a Months of the Year song  you can find at itunes
Keep Smiling, Singing, and Learning
And You Can Make Everyday
Simply Splendiferous!

 and the Billy Gorilly Crew