15 Benefits of Audio Stories for Kids
Audio Stories Are Cool
We think audio stories are cool and a perfect way to help kids learn in the classroom, and at home. Here are 15 reasons why we like audio stories for kids.
Improves listening skills Listening and concentrating on spoken words are important skills to learn at an early age. Teachers and parents can help early learners practice their listening skills by regular use of audio stories.
Helps improve story comprehension Some kids have trouble with reading comprehension. One way parents can help their child at home is to read out loud to their child on a regular basis. The beauty of audio stories is the child can listen and hear the words over and over, while giving mom or dad a much-needed break. Tip: Have the child listen to the story at the kitchen table as dinner is being made. If the child has any questions, you are right there to answer.
Easy to listen to while on errands or long car rides Listening to a story in the car is easy, just pop a CD into the car CD player and listen together as a family. You can also have your child listen on an mp3 player using headphones. This is a good option when you have more than one child in the car, and they don't want to listen to the same thing.
Many children can listen to the story at the same time Great for classroom use. The teacher can play the audio story as the whole class listens. When the story is over the class can discuss what they thought about the story, their favorite part, or the characters.
Can spark a love of reading in low-interest readers Audio books can be a great resource for children who have trouble reading or who don't like picking up a book to read.
Aids in word pronunciation Listening to the words being said out loud helps with word pronunciation, especially when the student can see the printed word as they hear the narrator say the words.
Helps with word memorization Hearing the words in an audio story over and over, often in a rhythmic way, can help children memorize words.
Stories underscored with music help kids stay focused and learn new sounds Many audio stories are underscored with sound effects and music. This makes the story come to life and helps engage the children making it more fun. Music can also help direct the emotion of the story, or keep the story moving so it doesn't get boring.
Children enjoy hearing different characters or narrators Skillful storytelling is a necessity, and if done well, kids will want to listen over and over.
Develops a child's imagination as they visualize the story Listening to a story gives a child the opportunity to imagine what a scene or person might look like.
A pre-reading child can listen to the story over and over by themselves Lets face it, as a busy parent you probably don't want to sit and read the same story to your 3 year old 15 times. The beauty of an audio story is your child can sit and listen as many times as they like, all on their own.
Audio stories are just plain fun to listen to Pick audio stories with fun, lively narration, that has great music or sound effects. This helps keep it fun and interesting for the child. Who wants to listen to a boring monotone narrator.
Great for ESL students Listening to stories helps with word recognition, memorization, and pronunciation.
Audio stories are affordable and portable Audio stories are very affordable. Your local library is a good place to start. Online stores like Audible.com are also a great place to shop. You can have many books on one small device that can easily accompany you.
Audio stories can be listened to as the child falls asleep Bedtime is a perfect time for parents to read out loud to their child. In fact, it's very important for bonding, nurturing, and learning. What can you do after you read a story and your child keeps saying one more story, and doesn't want to go to sleep? A great solution is to put an audio story on a player and the child can fall asleep to it. Many mp3, or CD players have timers so they will turn off after a certain amount of time. Your child can listen to their favorite story as they fall asleep.
**************************************
Take a listen to Billy Gorilly's audio stories "Aesop's Fables For Today's Kids"
This collection of audio stories feature Aesop's Fables told in a modern way using music to keep things fun and interesting.
See what the School Library Journal has to say about Aesop's Fables For Today's Kids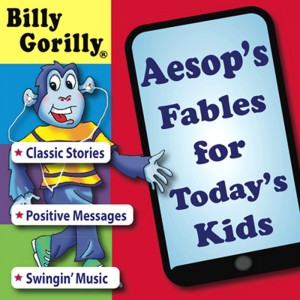 Visit Billy Gorilly's website BillyGorilly.com for more resources.