Have Your Turkey 3 Ways – Pencil Topper, Card, Coloring Page Deluxe
Thanksgiving Turkey Crafts
For Kids
We're getting ready to celebrate thanksgiving by making a card, pencil topper, and working on a multimedia coloring page.
These turkey crafts are easy and inexpensive. Grandma and Grandpa would love to get a turkey card from the kids.
A simple coloring page can become a work of art by using crayons, torn paper, and seed beads.  Tip – Cut the picture out and use in your family scrapbook.
A cute  little turkey topper on a glittery pencil is sure to give the little ones a smile. They can use their new pencil with the turkey on top to write a note in the card. How fun is that.
Let's Make A Turkey Card Download and Print Template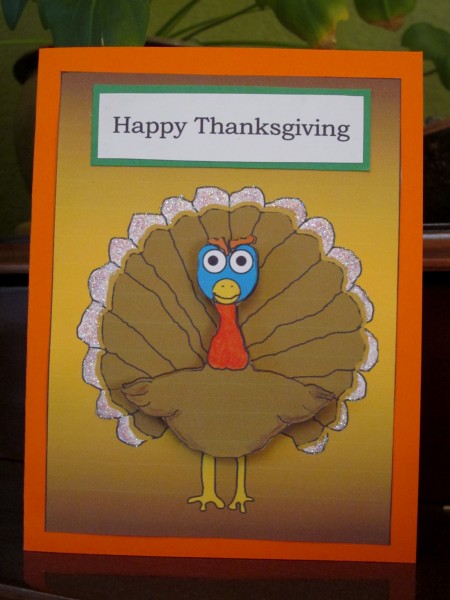 This is so simple. All you have to do is print out turkey card template, cut the template out, glue onto card stock and you're done. Of course you can make it fancier if you like.
Supplies for 1 or 2 Cards:
1 – Piece of 8.5 x 11 in. white card-stock to print images or use plain printer paper
1 – Piece of 8.5 x 11 in. color card-stock
Tape or glue
Scissors or paper cutter
Embellishments as desired.
On the card shown above we also used glitter, and foam tape, to pop up the turkey chest and head area. We also cut out the words Happy Thanksgiving and mounted them on a strip of green paper see in picture above.
1. Print images on card-stock

2. Cut out turkey card images

3. Cut 8.5 x 11 coordinating color card-stock
in half horizontally to make
two 5.5 in. tall x 8.5 in. wide pieces
4. Fold color card-stock in half.
Score paper first if you have a scorer.
5. Tape or Glue Turkey to front of card and your done
Pretty easy don't you think?
See another sample of this card here
•••••••••••••••••••••••••••••••
Turkey Pencil Topper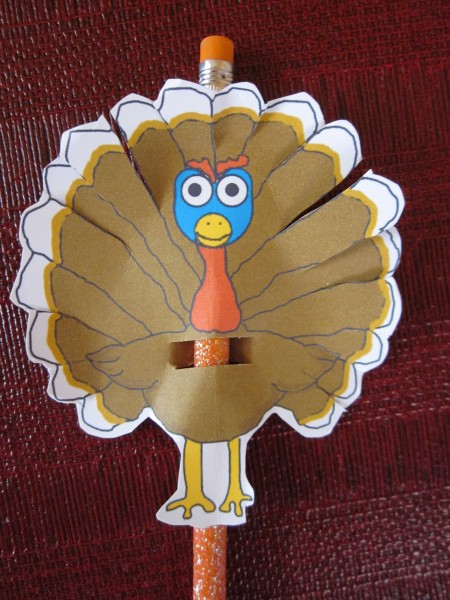 For the pencil topper we used the card template and printed on card stock
Download and Print Template
1. Cut out a turkey from the card template as shown in the picture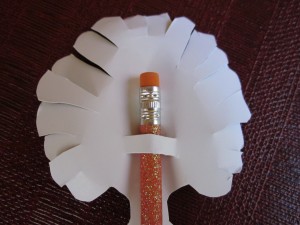 above.
2. Fold the turkey in half and cut slits as shown in picture
3. Carefully slide the turkey onto the pencil and you are done
You can add glitter or other embellishments as desired. We kept it very simple. the only thing we did was cut the feathers a bit to give our little guy some feathery style.
••••••••••••••••••••••••••••••••••••••••••••••••••
Deluxe Multimedia Turkey Coloring Page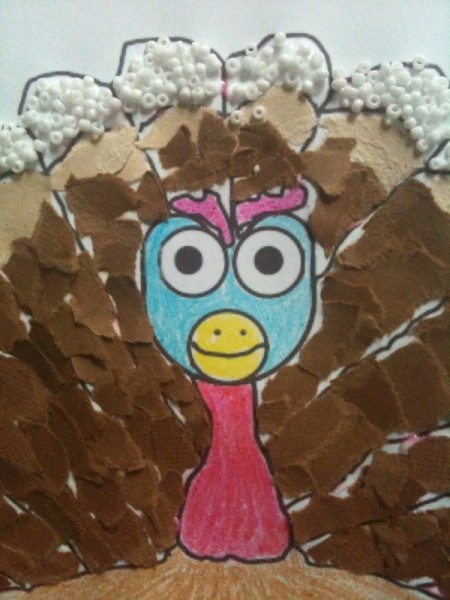 Print your coloring page, give the kids some crayons, glitter glue, torn paper, seed beads, cotton, or any other age appropriate  embellishments you can find around the house. Then, let the kiddos go to work making their very own turkey masterpiece.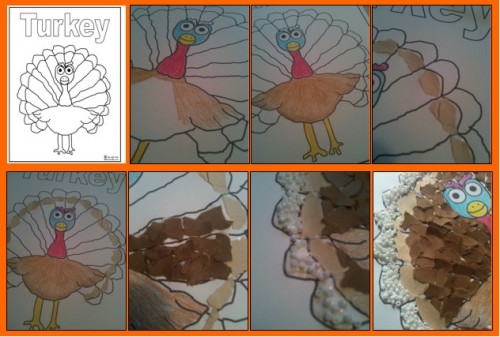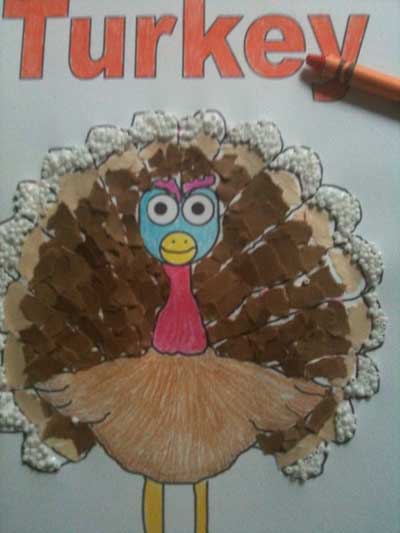 Download and Print Turkey Coloring Page
One Turkey Picture Used 3 Ways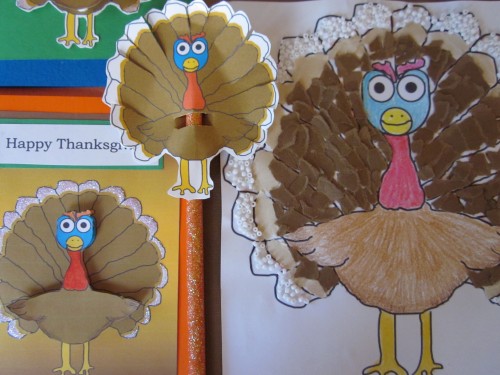 Happy Thanksgiving to those of you who celebrate. We hope you enjoy making some turkey art with the kids.
Billy Gorilly and the Crew