Recipe and Coloring Page – Autumn Apple Picking
Let's Go

Apple

Picking
This is the time of year when many families go apple picking. I have many fond memories of picking apples with my family when I was little.
I thought I would share with you a coloring page of two kids carrying a basket of apples they just picked.
And to keep in the spirit of things I wanted to share a recipe for Baked Apples. This old fashioned recipe will fill your home with  smells of cinnamon and nutmeg, much better than air freshening spray. The kids can help make them, and they make a wonderful snack.
If you are a teacher or parent looking for more Autumn themed coloring pages and activities you can find them on our website here.
Billy Gorilly, even has a story called "The Season Sisters" on his Rockin' the SchoolHouse, vol.1 series, to help children learn about the different seasons.
Easy

Baked Apple

Recipe
Ingredients:
•    2 baking apples like Granny Smith, firm apples work best
•    1/4 cup brown sugar, firmly packed
•    1/3 cup raisins or dried cranberries
•    1/8 teaspoon cinnamon
•    pinch of nutmeg
•    2 teaspoons butter
Preparation:
Wash and core apples, then remove a 1 inch strip of peel around the middle of each apple; place in a 1-quart shallow baking dish. Combine sugar, raisins, cinnamon, nutmeg and brown sugar in a small bowl; fill the center of each apple with some of the cinnamon mixture and dot each apple with  the butter. Add just enough water to baking dish to cover the bottom of the dish; bake, uncovered, at 350° for about 30 minutes, or until apples are tender. Baste with juices occasionally. Serve warm. Of course you can add a dollop of whip cream for added sweetness
Coloring Page – Autumn

Apple

Picking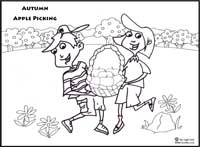 Download Coloring Page Now
Quick Links:
Coloring page – Autumn Apple Picking
More Autumn Activities
Baked Apples Recipe
Learn more about Rockin' The SchoolHouse audio and printables
Happy Autumn,
Tamara