We're Gearing up for November with a Coloring Page and Easy Bake Pumpkin Cake
Get Out Your Crayon's and Let's Have Some Fun Coloring
New: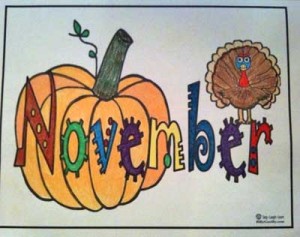 November coloring page  just added to Billy Gorilly's  Autumn/Fall collection of printables and crafts page.
To download and print coloring page click here
If you would like to view Billy Gorilly's  full collection of  Autumn/Fall printables and activities go here
"Easy Bake Pumpkin Cake"


A Family Friendly Recipe that is Sure to please

This recipe will have the house smelling like sweet cinnamon and spice, perfect for the cooler weather.

The children can color while the cake is baking in the oven.

Ingredients: —>Print Recipe

1 pkg. – Trader Joes Pumpkin Bread Mix (or your favorite brand)
5 oz. evaporated milk
2 eggs
1 30 oz. Can Pumpkin Pie Mix
1 stick unsalted butter
1 cup coarsely chopped pecans
1/8 tsp. cinnamon
Pinch of ground nutmeg
Directions:
Preheat oven to 350 degrees F. Grease 9x13in glass baking pan with Pam or butter. Mix pumpkin mix, evaporated milk, & eggs in bowl. Pour mixture into baking pan. Sprinkle ½ of bread mix over pumpkin mixture. Run knife through mixture in a zigzag to combine some of the bread mixture into the pumpkin mix.  Then, add remaining bread mix to top. Sprinkle pecans and spices evenly over surface, and then drizzle butter over mixture.  Bake for 40min. or until toothpick comes out clean. Keep an eye on your cake; it can burn easily in last few minutes. Let cool for 2 hours, then refrigerate or serve.
Quick Links:
> Autumn/Fall Activities
> Family Friendly Recipes
> November Coloring Page
> Easy Bake Pumpkin Cake recipe
We hope you enjoy!
Billy Gorilly and the Crew