Sign up for our free email newsletter!
News and Articles
Congratulations! to Tamara Maellaro Livin' Limes May "Lime Squeeze"
MAKING SWEET MUSIC TO CHILDREN'S EARS
by Jeanne Barrett (May 2012)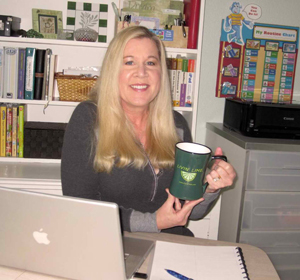 Welcome to our May Lime Squeeze, Tamara Maellaro! Tamara is inspiring children with a singing gorilla named Billy Gorilly…one story and one song at a time!
As Tamara looks back on her life, there are many things that led her to where she is today. She has always loved children, teaching, and music – though she didn't realize back then that those would combine for creating a successful children's website today. Read more...
To learn more about Livin' Lime visit LivinLime.com
---
Los Angeles Clippers NBA Team uses Billy Gorilly's version of
Jingle Bells for their 2011 Holiday eGreeting Card Check it out here or Listen here
---
Press Release:
Billy Gorilly Helps Build Character in Children
Aesop's Fables For Today's Kids

Wins CD of the Year Award
Los Angeles, CA August 1, 2011:

"Aesop's Fables for Today's Kids", the most recent release from Billy Gorilly, has been named a Creative Child Magazine "CD of the Year" award winner. The album, created for early elementary aged children, presents 16 classic tales completely retold in a unique and captivating style. Nationally known children's audio reviewer Kecia Burcham commented on the combination of spoken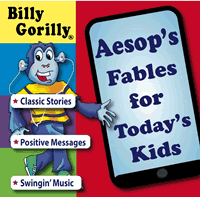 word and music by saying, "This isn't a typical voice telling the stories – it has great character and the tasteful music, although very understated, ranges from jazz to blues to very imaginative piano".
The Creative Child Magazine Awards are given out each year following an intense two-day organized reviewing event held near Las Vegas, Nevada. Hundreds of reviewers, including moms, music educators, and early education professionals, evaluate thousands of products designed to not only delight and educate children, but also to nurture their innate creativity. Upon completion of the event, all scores are tabulated and comments are reviewed. Based on the scores and comments, certain products are determined to be finalists. Ultimately only one product per category is then named Product of the Year. Writer/Producer John Maellaro, of Flying Kitten Music stated, "It's a great honor to win this award, especially from such a recognized and well respected organization as Creative Child."
The CD "Aesop's Fables for Today's Kids", as well as the other Billy Gorilly discs and educational materials, are the result of a seven year working collaboration between Flying Kitten Music and Kingman Publishing. The combination of creative talent and vision has produced numerous educational and entertaining products for early learners, continuing to fulfill the company's mission to have all children Sing, Laugh, and Learn. This most recent award is another in a long string of honors, raves, and accolades the product line has received from kids, parents and teachers alike.
In maintaining their solid commitment to giving back to the community, while encouraging kids to take part in the joy of learning, the creators of Billy Gorilly have produced promotional theme songs the past five years for the National Public Libraries Summer Reading Programs. The website, billygorilly.com, also offers free downloadable activity pages, an informational blog, and a series of educational podcasts.
For more information visit BillyGorilly.com
The award winning CD is available at CDBaby.com, iTunes.com, and Amazon.com.
###
August 01, 2011
★

Billy Gorilly Gets "Starred"


School Library Journal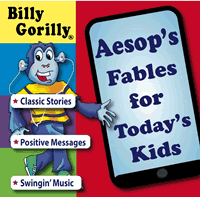 More Great News for Billy Gorilly's latest CD. We just found out we made it into the August edition of the School Library Journal, and we got a "STARRED" review.
Read the full review below.
Aesop's Fables for Today's Kids. CD. 43:42 min. Prod. by Flying Kitten Music. Dist. by CDBaby.com. 2011. ISBN unavail. $14.95.

K-Gr 4–Proving once again that Aesop's fables are timeless, Billy Gorilly gives 16 of the tales a modern twist and lively piano accompaniment in his latest collection. While more traditional tales such as "The Lion and the Mouse, "The Rabbit and the Turtle, "The Fox and the Grapes," and "The Grasshopper and the Ant" are sung, other stories are expressively and humorously told by John Maellaro, Charles Hardman, and Tamara Maellaro. The fables have been rewritten by Maellaro and Hardman, with simplified language, a touch of humor, and a contemporary setting, making the lessons even more accessible and relevant. "The Popular Ones" addresses the problem of cliques and bullying, while "Benny the Bragger" tells of the new student who is desperate to be liked. The moral of "haste makes waste" is illustrated by "Fast Freddie and Steady Eddie." "Farmer Brown and the Scrambled Eggs" teaches listeners not to count their chickens before they hatch, and not to dream of buying a widescreen TV before they have the money in hand. This upbeat compilation features piano music emphasizing the mood of the stories and as an accompaniment to the songs. The last track, "One World, Many Stories," is a bonus tribute to libraries.This tune and printable materials are available free for summer reading programs on Billy Gorilly's website (billygorilly.com). Youngsters will want to listen to these over and over again.–MaryAnn Karre, Horace Mann Elementary School, Binghamton, NY
The School Library Journal is the largest reviewer of children's and young adult material, from books to digital content. See this review and others on the School Library Journal site:
http://www.schoollibraryjournal.com/slj/home/891601-312/aesops_fables_for_todays_kids.html.csp
June 25, 2011
5 Star CD Review in Examinor.com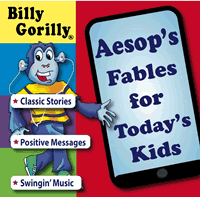 Billy Gorilly
Credits: Flying Kitten Music/Kingman Publishing
Billy Gorilly - Aesop's Fables for Today's Kids
• By Kecia Burcham, Nashville Parenting Examiner
Rating For Billy Gorilly's Children's CD: ★★★★★

Billy Gorilly's great new CD for kids is not just for the very young. I must say I thoroughly enjoyed the style and creativity displayed in the retelling of some timeless fables. From the "Boy Who Cried Wolf" to the hilariously told "Teddy Twice as Many", these tales came alive once again with a very modern twist. This isn't a typical voice telling the stories – it has great character and the tasteful music, although very understated, ranges from jazz to blues to very imaginative piano. Each fable is only 2-3 minutes long which is great for short attention spans, and the moral is stated at the end using today's contemporary language.

My granddaughter who is almost 5 really loved listening in the car during her visit, and I am going to use some of the stories in my Nashville guidance classroom this year – particularly the one about the mean girls who teased others about their clothes. That seems to be an eternal conflict, but I love the ending on this one!
I would highly recommend this CD for its entertainment value as well as the teaching of character education which has been mandated in most schools. Parents and teachers can use these stories to further discuss conflicts, bullying and the importance of doing the right thing.

Also included on the CD is the theme song for the 2011 national public library summer reading program "One World, Many Stories".
If you'd like to order this CD or some of the others in the Billy Gorilly collection, please visit www.billygorilly.com. Here you will also find coloring pages, sheet music, puzzles and a link to the podcast of adventures with Billy Gorilly.
April 2011
School Library Journal Review
Great News!
We are proud and honored to learn Billy Gorilly's educational audio CD's Rockin' the SchoolHouse, Vol. 1 & Vol. 2 were reviewed and added to the School Library Journal, April 2011.
Here's a snippet of the Rockin' The SchoolHouse review:
"Filled with energy, up-tempo beats, and easy-to-understand lyrics, these CDs
will be a hit in the classroom as well as at home".
To see the full review, Click Here
the review is near the bottom of page under music
February 2011
A Nice Letter From The Mommies Network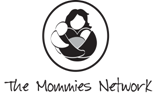 Dear John Maellaro:

The Mommies Network had a tremendous year in growth internally as well as externally in 2010. With over 100 chapters nationally, over 32,000 members, and with an average of 104 new members daily, TMN is growing rapidly and making a positive impact on the communities where our members live and in the national "community" as well.

As The Mommies Network continues to grow and expand in 2011, we wanted to pause and thank those businesses and individuals who have helped us to reach a new level in our growth. We are grateful to you for your support in 2010 and want you to know that without the support of you and others like you, we would not be where we are today. Your donation of five Billy Gorilly - Rockin' the School House vol 1 & 2 CD Sets for our national auction was greatly appreciated and helped us to raise $1,000 for the National Association to End Domestic Violence and to provide support to over 30,000 women across the county.

The beginning of 2011 has already seen tremendous changes and growth for The Mommies Network with more to come. In an effort to refocus on our mission, TMN is shifting our charitable focus on volunteering in our community. When the economy is tough our charitable contributions are typically one of the first things to go, but that does not have to mean money or collecting goods. It can also mean time and talent. We are going to explore the opportunities right in our neighborhoods where we can lend a helping hand. Additionally, The Mommies Network plans to open approximately 20 more sites, bringing on a new board of directors, and launch a national forum. 2011 sees us confidently moving forward in our mission to ensure that every mommy has a community where she can find support.

Thank you again for your support in 2010. We are looking forward to what 2011 has in store and hope that you will continue to support our work and our mission.

Thank you,

Christine Byrd
Director of Development
The Mommies Network
www.themommiesnetwork.org


The Mommies Network is a tax-exempt organization under IRS code 501(c)3.
No goods or services were exchanged for this donation.
January 2011
ALSC Notable Children's Recordings Nominations
Billy Gorilly is Nominated
All of us here at BillyGorilly.com are proud and honored to have

"Billy Gorilly - Rockin' the SchoolHouse, Vol.2"

included as part of the ALSC Notable Children's Recordings Nominations List for 2011. We'd like to thank and praise all the committee members for their tireless work auditioning countless submissions and compiling the list. The list can be accessed Here. We would also like to congratulate all the notable children's media winners.
We look forward to 2011 being another year filled with educating and engaging children through our recordings and encouraging them to reach their full potential by becoming life-long learners.
We're also very happy to announce that we've added Follett Library Resources/Book Wholesalers Inc. to our list of official distributors.
---
A Chance to Just Be a Kid
'Tis the Season to Spread the Joy of a Happy, Fortunate Life.
All of us here at BillyGorilly.com are proud to help out Viva.org by providing
Billy's version of "Jingle Bells" as the soundtrack for their Viva Christmas Parties promotional video.
Viva's primary year round focus is facilitating, supporting, and coordinating "Children at Risk" programs that help over 1 million kids in 24 different countries around the world. The programs provide the essentials of food, safety, health care, and education to children that otherwise may go without.
Near the end of each year Viva also sponsors a series of Christmas parties at various locations across Africa, Asia, and Latin America. These parties give children from poor families the opportunity to know the joy of having a good meal, receiving a gift, and sharing in the celebration. But mostly it gives them the chance to just be a kid.
To learn more visit: http://www.viva.org/christmasParties/
---
Screen Shot Taken

November 21 , 2009
Rockin' the SchoolHouse vol. 1
Named Top Selling Children's Educational CD
Screen Shot Taken


October 31 , 2009
Rockin' the SchoolHouse vol. 1
Named Top Selling Kids/Family Children's Storytelling CD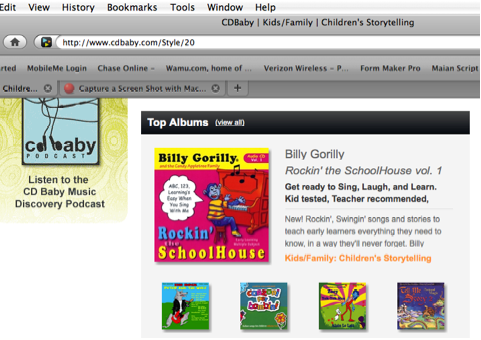 To view CD, listen to samples, or buy CD
Click Here
April 2009
Be Creative at your Library

Reading keeps summer from turning kids' minds into Jello
As another long summer away from school approaches, many parents are wondering how to keep their children busy doing something constructive. While certain T.V. shows and video games can be educational, nothing seems to beat good old fashioned reading. Or for very young children, being read to. Summer reading programs are a great way to provide children regular opportunities to read books, play writing games, and listen to stories. While children might be more focused on the fun and prizes involved, educators know that these sorts of programs help little kids get ready to read and big kids raise scores.
A study conducted by Jimmy Kim at Harvard's Center for Evaluation found that reading four or five books over the summer months had an impact on fall reading achievement comparable to attending summer school. (Kim) Another study concluded that, "children who read more than a half an hour per day during the summer had significantly higher reading comprehension gains by the fall compared with children who did not." In addition, the study showed that "children whose parents read to them at least twice a week over the summer also improved comprehension skills more than children whose parents did not." (Phillips and Chin)
Public libraries all over the country are busily gearing up for the 2009 summer reading program "Be Creative at your Library". The program is sponsored by the Collaborative Summer Library Program (CSLP), which is a grassroots consortium of states working together to provide high-quality summer reading program materials for children at the lowest cost possible for their public libraries. The CSLP began in 1987 in the state of Minnesota and has since grown to include libraries from virtually every state in the country.
"Be Creative at your Library" is not only a wonderful free program that promotes parent/child involvement, but also gives kids an opportunity to have fun while learning valuable skills. Program coordinators often incorporate puppet shows, crafts, skits, and other fun activities to help children interact with the characters they read about and make various subjects come alive for them in a meaningful way. There's even a theme song for "Be Creative at your Library", sung by the children's cartoon character Billy Gorilly. The song was produced by Flying Kitten Music whose unique songs, stories, and educational materials are prime examples of the creative learning tools parents and kids can discover through the library.
To find out the details about dates, times, and registration for this summer's program, call or visit your local library. And to learn more about effective and engaging children's educational materials visit these websites:
www.scholastic.com
www.billygorilly.com
www.pbskids.com
News Release
For Immediate Release…
Flying Kitten Music / Kingman Publishing
contactus@billygorilly.com
626.966.7760
Billy Gorilly to Perform at
Ronald McDonald House Charity Event

Children's cartoon characters Billy Gorilly and the Candy Appletree Family and McDonalds Glenquarie will be combining their efforts to raise money for the Ronald McDonald House Charities in a special live show Saturday November 17, 2007. The admission free show will feature Billy Gorilly and his pals performing songs from their award winning CD and will take place at the McDonalds Glenquarie, Sydney Australia McHappy Day celebration. A portion of the proceeds from the food sold at the day-long event will be donated to help critically ill children and their families. For details visit www.billygorilly.com/mchappyday.html

Flying Kitten Music

and

Kingman Publishing

For Details Contact:
Jennifer Rowes
626.966.7760
contactus@billygorilly.com
www.billygorilly.com



Address:
101 N. Citrus Ave. Suite #2
Covina, CA 91723

For Immediate Release

Swing into Creative Learning with Billy Gorilly




Kids music CD, distinguished winner of iParenting Media Award; Best Products of 2007

Covina, CA March 5, 2007: "Billy Gorilly and the Candy Appletree Family" children's music CD has been named a distinguished iParenting Media Award Winner for the Best Products of 2007. The CD, created for children 2-8 years old, was given the award after being thoroughly evaluated by an experienced team of reviewers. The innovative combination of cartoon characters, story, and songs prompted one of the reviewers to comment, "The music is well produced and timeless in style; like Dr. John for kids. It has a nice mix of educational and social development themes, which are presented in an entertaining manner. The retelling of Aesop's fables reminded me somewhat of Mr. Peabody and his pet boy Sherman from the Rocky and Bullwinkle Show!" A color illustrated lyric booklet is included to allow children to follow the characters and sing along.

The evaluation process created by the iParenting Media Awards program is internationally certified to provide a credible and objective method of recognizing the year's best products. "We're very honored to be an award winner from the premier media company focused on parents and families," says co-writer/producer, John Maellaro, of Flying Kitten Music. Consumers can feel confident purchasing products that display the iParenting Media Award seal knowing the products' quality and value have undergone a detailed review by real parents, children, and industry experts.

Co-writer/producer Charles Hardman, of Kingman Publishing states "John and I were working together in the recording studio on other productions when we recognized the need for intelligent children's music, what I like to call, "smarts wrapped in fun". The collaboration between Flying Kitten Music and Kingman Publishing, resulting in the creation of Billy Gorilly, proved to be a winning combination. The companies received the iParenting award along with some of the other top names in children's products, including PBS Kids, Scholastic Media, Sony Pictures, and Walt Disney Home Entertainment. Flying Kitten/Kingman's mission is to provide unique, high quality entertainment that parents, teachers, and librarians can rely on to inspire and educate young children.

The product's website www.billygorilly.com offers free downloadable activity pages and a Story Time Resource Kit designed to be used with the "Billy Gorilly and the Candy Appletree Family" music CD. In keeping with a strong commitment to encourage kids to learn while having fun, Billy Gorilly has recently recorded a theme song to promote the 2007 public library summer reading program "Get a Clue @ your library", and will soon debut the first in a series of educational podcasts called "The Billy Gorilly Show".

For more information about Billy Gorilly and the Candy Appletree Family visit billygorilly.com or contact Jennifer Rowes at 626-966-7760. The award winning CD is available on-line at CDBaby.com, iTunes.com, Amazon.com, Target.com,

###
Billy Gorilly
Promotes Summer Library
Reading Program
The song "Mrs. Opossum", from the children's music CD
"Billy Gorilly And The Candy Appletree Family", will be featured in a
radio special to promote the kids summer library reading program
"Paws, Claws, Scales, and Tales". The show hosted by Jeff Brown
and produced in conjunction with National Public Radio station
KTOO F.M. and the California Summer Library Reading Program will be presented in three episodes and made available via broadcast as well as free downloadable podcast.

Bringing together some of the top names in children's music such as Monty Harper, Buck Howdy, and Trout Fishing in America, the show promises to be a fun time for all. The theme for the entire program will be focused on the world of animals. The songs included in the radio special will tickle children's curiosity about animals and encourage them to read books to learn more about their favorites.

To download the podcast of this exciting radio special go to
www.summerreading.cla-net.org/srpgpodcast.html or to obtain a
copy of the "Billy Gorilly And The Candy Appletree Family" music CD for your library visit www.billygorilly.com