Are You Ready to MAKE A SPLASH?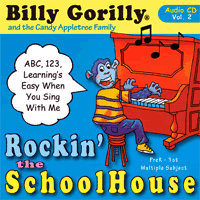 As summer rapidly approaches, librarians and teachers across the country are busily preparing for this summer's reading program "Make A Splash at your Library". With a seemingly endless number of details to get together and such a short time left, it's good to know Billy Gorilly is ready to help.
His brand new CD "Rockin' the SchoolHouse vol.2" not only has a "Make A Splash" theme song, but it also offers up 19 other songs and audio stories done as only Billy and his pals can do. Kids will have a ball singing along to learn the Days of the Week, Letter sounds, Counting Backwards, and the Colors of the Rainbow. They'll learn the meaning of true friendship and the value of cooperation as they listen to Billy's version of some classic Aesop fables, and when it's time to pick up and put things away there's even a "Clean-Up" song to wrap it all up. Early learners will be Energized, Geniusized, and Socialized with this multiple subject CD as they learn everything they need to know in a way they'll never forget.

Everyone Loves Freebies!
Billy Gorilly created a special 60 second version of his "Make A Splash" song just for you. Use this song FREE to help promote your reading program.
Listen Here

Where can I learn more about Billy Gorilly's Educational Music?
To learn more about "Rockin' the SchoolHouse vol. 2", it's companion CD vol.1, or any of the other Billy Gorilly music and educational products, visit billygorilly.com on the web.
Listen to Rockin' the SchoolHouse vol. 2
Have a Question? Contact Me I would love to hear from you.
Sincerely,
Tamara Maellaro
billygorilly.com