Don't forget to look below for Billy Gorilly's
free activity pages to go along with this podcast.
The Boy Who Cried Wolf
Billy Gorilly tells the classic story of "The Boy Who Cried Wolf in his own lively and unique style.
Download a template found below to make your own mini-book so kids can follow along.

Five Senses
Billy Gorilly sings his "Five Senses" song. Kids will learn about the five senses as they sing and move with the music.

Printable Activity and Coloring Pages

> Mini-Book Template: "The Boy Who Cried Wolf"
> Play the Scent Clue Game
> Coloring Page: Five Senses
> Matching Game: Five Senses
Where can I purchase the songs on this podcast?
Buy at one of our personal favorite places CdBaby, and iTunes.

Buy Now @ CdBaby

• The Boy Who Cried Wolf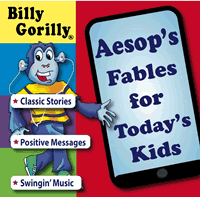 • FIVE SENSES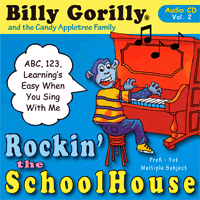 Rockin' the SchoolHouse, Vol.2


Shop for Billy Gorilly Music at iTunes and CDbaby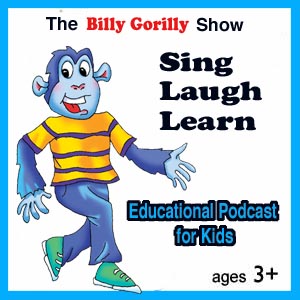 Click Arrow Start the Player
Subscribe To Podcast Using iTunes.

Subscribe to the Billy Gorilly Show Podcast FREE at the iTunes Music Store to receive new episodes automatically. This makes it easy to download to your ipod or other mp3 player. Windows users you will need to install itunes if you don't already have it on your computer.
The Billy Gorilly Podcast for Kids is perfect for ages 3 years-up. Billy Gorilly And the Candy Appletree Family sing songs, teach interesting things, and tell stories. Kids can listen and learn from the cartoon characters looking forward to each new episode. Each podcast is 5-10 minutes long. Look for our podcast in the iTunes Music Store. Make each and everyday Simply Splendiferous with Billy Gorilly.
About Our Activity Pages.
The files are in .pdf format and they are free. Use Adobe Acrobat to print. If you should need the Adobe software it's also free. You most likely have Adobe Acrobat already on your computer. If not click the link below to get.
http://www.adobe.com/products/acrobat/readstep2.html
Copyright Notice
Please feel free to print and use these activity pages for non-profit use. That means parents, teachers, librarians, or any other educator can use and pass out copies. Not to be sold or used for profit or added to any web site or ebook without written permission. You can contact us here