Don't forget to look below for Billy Gorilly's
free activity pages to go along with this podcast.
Mrs. Flicker Fireflybrarian
Wendy and Timmy sing a song about their favorite librarian, Mrs. Flicker Fireflybrarian. She is as friendly as can be and she will help you find the perfect book for you to read.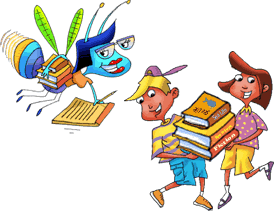 Let's All Take A "Walk In The Woods"
(La La La song)
Take an imaginary walk in the woods with Billy Gorilly and the Candy Appletree Family. Sing along and enjoy the journey.
Printable Activitiy Sheets to download and print.

• Coloring, Maze, Activity Guide • 8-Pages of Fun

ABOUT
our activity pages. The files are in .pdf format and they are free. Use Adobe Acrobat to print. If you should need the Adobe software it's also free. You most likely have Adobe Acrobat already on your computer. If not click the link below to get.
http://www.adobe.com/products/acrobat/readstep2.html