This resource kit was designed for the
"Billy Gorilly and the Candy Appletree Family" music CD
Buy CD now
Download free resource kit to go along with CD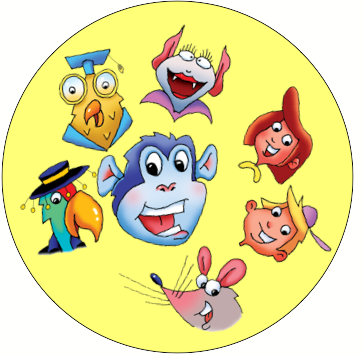 BILLY GORILLY AND THE CANDY APPLETREE FAMILY
Music for kids
16-song CD includes 24-page lyric booklet with colored pictures
Making your story hour fun, entertaining, and informative will be easy with the help of BILLY GORILLY AND THE CANDY APPLETREE FAMILY.
The all New Children's Cartoon Characters feature;
* a friendly blue gorilly - BILLY GORILLY
* a nerdy owl - OWLTON W. HOOTLEY
* a little girl with a big imagination - WENDY
* a little boy with lots of heart - TIMMY
* a Latin parrot - PABLO PARROT
* a Diva bat - BETTY BAT
* Betty Bat's backup singers - THE SINGING MICE
* House Mouse, Country Mouse, City Mouse, and Mousie
BILLY GORILLY AND THE CANDY APPLETREE FAMILY encourages kids to experience the world around them. Songs and stories, filled with good clean fun will put smiles on their faces while they sing, learn, and use their imagination to make everyday Simply Splendiferous!
Children will be entertained as they learn interesting educational material while listening to songs like MRS. OPOSSUM, HOPPING TOADS AND JUMPING FROG, BIRDS, FLOWERS, and A WALK IN THE WOODS.
Four of Aesop's fables have been "tuned" while the song DINOSAURS is an energetic rap that takes kids on a lollapalooza joy ride back to a time when "lizards, big lizards, really big lizards" roamed the earth.
THE CLAPPING SONG is a join-in-the-fun exercise song. Fact is, kids can join in and sing or dance anywhere throughout the CD just for the joy of it.
Imagination is the theme for the songs THERE'S A TIGER LIVING AT MY HOUSE, and I have MY VERY OWN ZOO.
When your story hour topic is loyalty, friendship or the companionship of a pet,
MY DOG SKIP is the perfect choice.
BILLY GORILLY…is new and exciting. Kids from two to seven (and some even older) love this CD. It doesn't disappoint.
For additional support and information, please check out our website at www.billygorilly.com. We have FREE downloadable puzzles, coloring pages, recipes, and sheet music.

© 2008-2012 Flying Kitten Music/Kingman Publishing
101 N. Citrus Ave. Suite #2
Covina, CA 91723
626-966-7760